The #YogaHappy Challenge: Day 11

It's a new year, and time for a new challenge. Whether you are just starting your practice, or wanting to deepen it- we want this challenge to jump start that process for you in 2014. With that said, the #YogaHappy challenge is open to anyone and everyone seeking daily bliss.
This 21-day challenge includes everything from getting sweaty on the mat to finding yoga in unusual places in your daily routines. Each day we will post a new challenge that connects you to a different part of your practice. The #YogaHappy challenge will inspire mindfulness, presence and our connection to our happy place.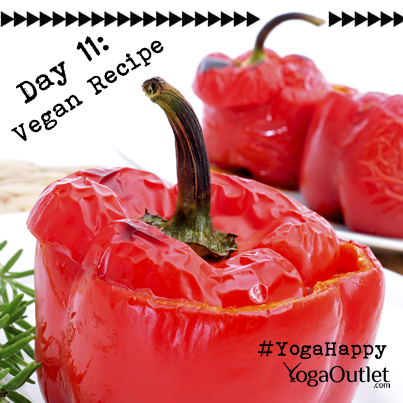 DAY ELEVEN: It's tasty Thursday! Today we challenge you to try a new, clean and colorful [vegan] recipe. We love this quinoa-stuffed bell pepper [via Vegetarian Times]. Invite over someone who inspires you, and encourage them to join you in this challenge. Eat, drink and get #YogaHappy. 
Ingredients [serves 8]
4 large red bell peppers, halved
1 medium onion, finely chopped (1 cup)
2 Tbs. olive oil
2 cloves garlic, minced (2 tsp.)
1 10-oz. pkg. frozen chopped spinach, thawed and squeezed dry
2 15-oz. cans diced tomatoes, drained, liquid reserved
1 15-oz. can black beans, rinsed and drained
¾ cup quinoa
3 large carrots, grated (1½ cups)
 
Directions
1. Heat the olive oil in saucepan over medium heat. Add onion and celery, and cook for five minutes, or until soft. Add cumin and garlic, and sauté for one minute. Stir in spinach and drained tomatoes. Cook for five minutes, or until most of liquid has evaporated.
2. Stir in black beans, quinoa, carrots, and 2 cups water. Cover, and bring to a boil. Reduce heat to medium-low, and simmer 20 minutes, or until quinoa is tender. Season with salt and pepper, if desired.
3. Preheat oven to 350°F. Pour liquid from tomatoes in bottom of baking dish.
4. Fill each bell pepper half with heaping ¾-cup quinoa mixture, and place in baking dish. Cover with foil, and bake 1 hour. 
Enjoy
TO ENTER: share a photo on Instagram (with #YogaHappy) of you participating in the challenge- whether it is a selfie of your practice, your blissed-out yoga hair, or a picture of what is inspiring you on that day.
LOG YOUR PRACTICE: take a picture every day of your challenge and submit it on Instagram. You can add a description or a new insight if you'd like. Remember: your participation is encouraging someone else to join in and get #YogaHappy. What can be better. You can join us in this challenge on any day!