Best Reasons to Try Stand Up Paddle Board Yoga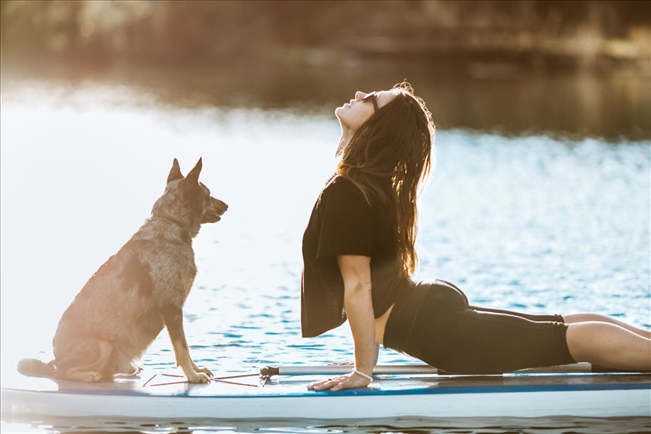 With summer days on the horizon, beautiful destinations and adventures are calling. If you're looking for a warm weather activity that will offer a fun challenge, look no further than yoga on a stand up paddle board (SUP)! It's a relatively new and unique activity that might seem intimidating at first. However, it's actually fun and easier than you think!
For those who are on the fence or are just interested in learning more, here are 10 benefits that SUP yoga can offer you: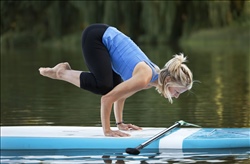 Improved Balance
Because the platform is unstable, your body and mind are forced to become more alert and in tune as they constantly adjust to the shifting surface. This strengthens both your body and your brain, making them more adaptable and strong, thereby improving your ability to balance.
Stronger Muscles and Fitness Abilities
SUP yoga challenges all of your muscles to remain alert and work simultaneously. Your legs have to stay strong and balanced in order to hold you up on the board, your arm strength is used to paddle, and your core must stay engaged to hold your body upright. You will also be more in tune with your yoga poses because your board will not stay level if you are misaligned and imbalanced on one side.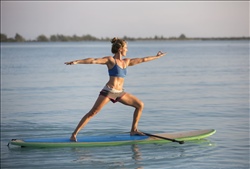 Enhanced Focus
The instability that comes with using a paddleboard combined with flowing from yoga pose to yoga pose keeps you in a constant state of presence. When trying to balance, you'll be acutely mindful of each breath, body movement, and foot placement that you make. In regular yoga practices, it can be easy to hurry from one pose to the next. Yoga on a SUP board forces you to slow your pace, pay attention to how you move, and focus on the quality of your breath.
Increased Circulation
Adding yoga to the mix greatly enhances the benefits of a normal SUP session. The stretching, lengthening movements, and breathing that yoga offers increases circulation within the body.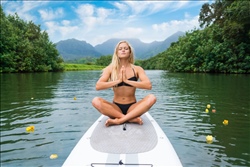 A Sense of Calm
The sensation of floating on the water has a way of making you feel light and worry-free. Also, the sound of water is believed to soothe the mind and can help you relax. The combination of being on the water, breathing in the fresh air, and being in nature will put you in a grounded and zen-like state.

Empowerment
SUP yoga is a new and unusual activity for many. By giving it a go, you're saying yes to an opportunity to step out of your comfort zone. In addition to strengthening your body and mind in new ways, trying SUP yoga can help you let go of fear and conquer a challenge. There isn't much else that's more empowering than that!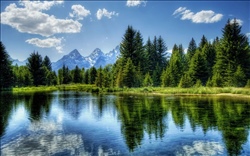 Enjoyment of Beautiful Environments
SUP yoga allows you to ditch the gym or studio and enjoy some physical activity outside. Being able to breathe fresh air, soak up some sun, and enjoy natural landscapes is healthy for both your body and mind. It's a great way to recognize your union with nature.
Get Back up with a Smile
When it comes to trying SUP yoga, it's almost impossible to avoid splashing into the water. In such a case, you just have to get back up on your board and try again. The more you fall into the water, the quicker you'll become okay with it, and the better you'll feel and easier it will be. This is a great life lesson in and of itself! Not to mention that falling into the water can be a nice refreshing relief from yoga in the hot sun.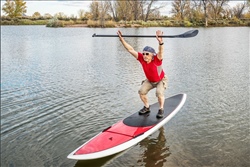 Inclusion of All Levels of Practitioners
No experience of SUP or yoga is necessary in order to try SUP yoga. All you need is the ability to swim and willingness to try! Just like in regular yoga classes, your teacher will be there to modify the postures that are offered, so there isn't any need to be flexible to begin with.
Fun Times
Simply put, SUP yoga is fun! This unique activity leaves little room for boredom as it keeps you consistently moving and mindful. It's easy to fall into workout routine ruts and SUP yoga is a great way to mix things up.
Are you ready to give it a try? Here are some accessories to help prep you!
What do you love about SUP yoga? Let us know in the comments below!