Yoga Studio of the Month: Dharma Yoga in Austin, TX
The EverydayYoga Blog features a different Studio of the Month each month to acknowledge the great spaces around the country where we practice, share laughs, make friendships, and build community through yoga. Local studios create so much positivity and empowerment within their neighborhoods, so they deserve to be celebrated! If you have a studio that would like to be featured, please email: blog@everydayyoga.com. 

Studio Name: Dharma Yoga
Location: Austin, Texas
When did the studio first open?: Dharma Yoga opened in 2005 and has had over 12,000 Austinites come through its door.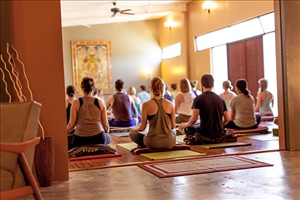 What types of classes are offered?: Dharma Yoga explores traditional hatha yoga through the lens of Buddhism. Classes include vigorous Vinyasa Flow, Gentle Restorative Nightcaps, Vin & Zen (a 50-50 blend of flow and meditation), a weekly Quiet Mind meditation series, workshops on everything from Ayurveda to the neuroscience of mindfulness, and our celebrated 200-Hour Teacher Trainings that have certified over 600 Dharma Yoga instructors now teaching worldwide.
How many teachers work at the studio?: There are 20 teachers on the Dharma Yoga staff, headed by director and founder Keith Kachtick.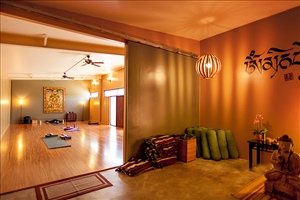 What are some unique aspects about your studio that set it apart from other yoga studios?: Our classes always have a theme and intention, inspired by poems from Mary Oliver or Rumi, a Buddhist mantra, or even the weather. The décor of the studio is Tibetan meets industrial Danish. Our practice room holds forty mats and meditation cushions. Having no mirrors, we go inward, not outward. There's no artificial heat, and no sense of competition. Classes festively blend asana, mindfulness exercises, Thai yoga massage, Kendrick Lamar-fueled "shaking meditations," pranayama, and sacred chanting, with quirky themes like "Fibonacci Sequence as Metaphor for God" and "Zen Handstands."
What do you love most about your community of yogis?: Our sangha members range in age from 15 to 80, with as many University of Texas professors as co-eds. Many students have been practicing with us for well over a decade. Dharma Yoga students have a depth of mindfulness--in alignment, in breathing, in the care given during partner work--that's pretty unique. And our sangha is extremely welcoming and open-hearted. A recent benefit class for one of our students fighting climate change raised enough money for him to plant 22,000 trees!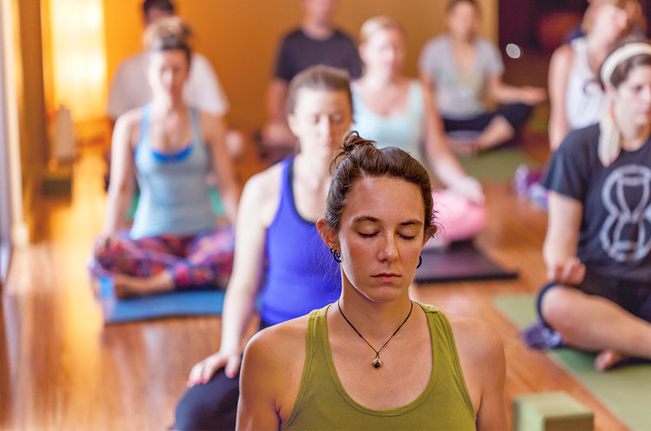 If you have a studio that would like to be featured, please email: blog@everydayyoga.com!