The Yogi Review: Men's Yoga Shorts Compared
by Outside Expert, Jeff Grace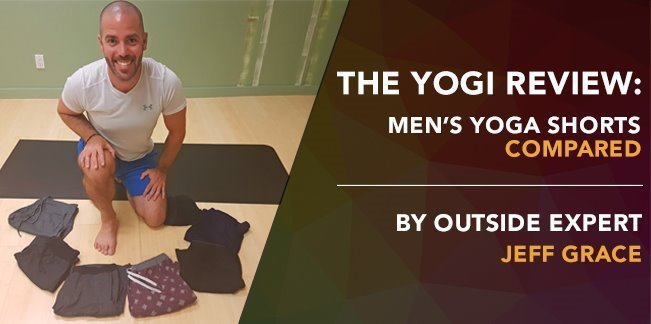 As someone who lives in shorts, even when the weather doesn't call for it, I was more than excited when EverydayYoga.com suggested that this month's product review would feature seven different pairs of yoga shorts. I live a very active lifestyle up here in Canada. On top of my personal yoga practice and teaching, I trail run, hike, climb, kayak and swim regularly.
In reviewing these shorts, I looked at not only what types of yoga practices I felt they were best suited for, but also what other activities I enjoyed using them for. For some buyers multi-functional shorts might be seen as a big plus. For others, you might just focus on the yoga-specific characteristics of the shorts.
A reminder that every individual is different and our reviews are only meant to help assist you in your purchasing decision.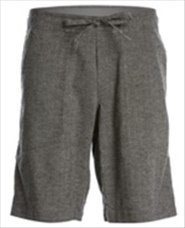 Prana Men's Sutra Yoga Shorts ($59.99)
A few years ago, I fell in love with the prAna Sutra pants. It is at the point where many of my friends and almost all of my students have asked if I own any other style of pants – so I admit for this review I come in a bit biased. The Sutra Shorts seduced me just as quickly.
The fabric blend of 53% hemp, 44% recycled PET and 3% lycra is incredibly comfortable, light and easy to move in. Imagine the most comfortable pair of pajamas you have you have every worn and these shorts will put them to shame.

Although the material is effective in wicking moisture, these shorts would not be my first choice for a hot practice. But I love these shorts for so much else.
Activities I do in these shorts:
• Hatha, vinyasa, yin and restorative yoga
• Hiking
• Climbing
• Chilling with friends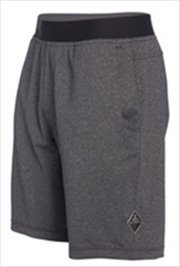 Prana Men's Mojo Chakara Yoga Shorts ($59)
These are very different than the Sutra shorts, but are ultimately extremely comfortable and responsive, as well. The material is a little heavier, but not to the point where I would describe them as 'heavy'. The supplex nylon/lycra spandex blend wicks moisture effectively and dries quickly.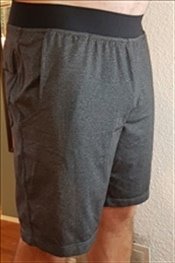 Although the waistband is as comfortable as advertised, it does not have a drawstring, which I did not particularly like. Even though they were secure, they never really felt like it.

I found the material a little too thick for a hot practice and because of the waistband I am not comfortable doing a more dynamic practice in them. Probably a bit more outdoorsy then their Sutra counter-part.
Activities I do in these shorts:
• Hatha, yin and restorative yoga
• Hiking
• Chilling with friends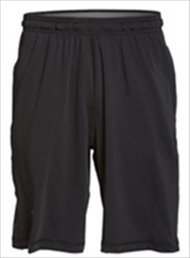 Under Armour Men's UA Raid 10in Shorts ($26.95)
I have been an Under Armour fan for a long time. In fact, I owned four pairs of UA shorts before receiving the Raid. I've always loved Under Armour shorts, but these are the most comfortable of any UA product I've ever worn. The HeatGear fabric is incredibly soft and light. If it wasn't for the waistband (which is extremely comfortable in its own right) it almost didn't feel like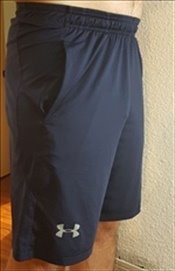 I was wearing shorts at all.
They are durable, wick moisture incredibly well and dry extremely fast.
The one thing that I do not like about these shorts are the pockets. Because the material is so light the pockets tend to turn inside out very easily and often. It's just a function of the short material so you can't really have it both ways. I'd be nervous carrying anything light that is really important in the pockets.
Activities I do in these shorts:
• Hatha, vinyasa, hot, yin and restorative yoga
• Hiking
• Climbing
• Kayaking
• Chilling with friends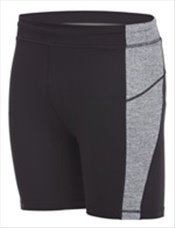 Manduka Men's Atman Yoga Shorts ($44.99)
These are the most supportive pair of shorts I have ever put on. This style of short fits tight to the body and do have a great soft second skin type feel to them. Drawcord is on the inside.
The recycled polyester/spandex blend along with the style of stitching makes these shorts extremely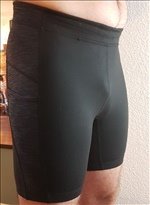 comfortable. The moisture wicking capability is awesome and they are very easy to move in with no restrictions.
For me, these are perfect shorts to wear under a more lightweight short for support.
Activities I do in these shorts:
• Hot yoga
• Swimming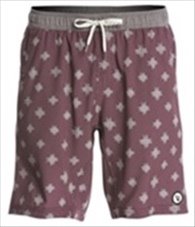 Vuori Men's Kore Print Yoga Shorts ($47.99)
These shorts are fun. Ordinarily I am not a huge fan of print shorts, but I do love these. They come in prints and also a camo color if you want to make a bit of a style statement. The Coolmax liner is extremely comfortable and surprisingly supportive. The polyester/spandex blend that makes up the body of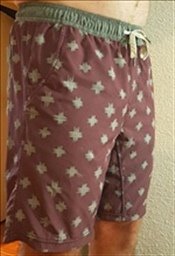 the shorts is extremely lightweight and comfortable to move in.
If there is one drawback it would be the design of the waistband. The design with the drawstring is adjustable and comfortable, but does not feel as smooth as it could. The drawstring is on the outside for easy tying but also make it part of the look.
I see these shorts as all-around sport shorts, not necessarily yoga-specific. Activities I do in these shorts:
• Hatha, vinyasa, hot, yin and restorative yoga
• Hiking
• Climbing
• Kayaking
• Swimming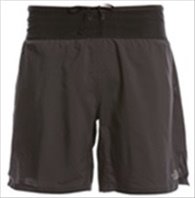 The North Face Men's Better Than Naked Long Haul Short ($44.95)
Trail running in these shorts is a wonderful thing – especially since these shorts come in short (3.5 inch), medium (5 inch) and long versions. For running and yoga, I'd go with the shortest.
The paneling is made of Flash Dry material, which is incredibly supportive and wicks moisture extremely well.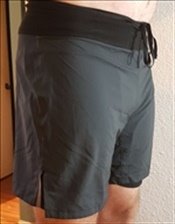 The polyester body of the shorts is so light that you almost don't notice that it is there and the comfort fit waistband feels exactly as it sounds.
Something that annoys me about many styles of running shorts is the lack of practical pockets. North Face made sure that was not an issue with these shorts creating multiple pockets. This may sound like too many, but the design works.
Although the paneling is comfortable and supportive, you do feel the stitching against the skin -- one of the few things that I was not a big fan of during my review.
Activities I do in these shorts:
• Vinyasa and hot yoga
• Trail running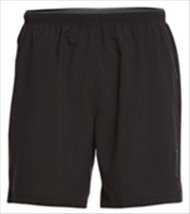 Brooks Men's Go-To 7" Short ($39.95)
When opening the box of shorts from EverydayYoga.com, I thought that the Brooks Go-To 7" would be my least favorite pair – especially when you first see the length of the inseam. Once again, the old adage of "you can't judge a book by its cover" was reinforced.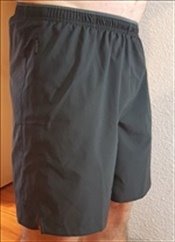 These are the most more comfortable pair of shorts I have ever run in. The 100% polyester Drilayer material, which both the liner and the body of the shorts are made of, is light, comfortable and wicks moisture as well as any shorts I have ever worn. If you're running in bright sun and want to protect your pasty white thighs, these are a good option for their length but without any bulk.
The one drawback with these shorts is the lack of pockets.
Activities I do in these shorts:
• Hatha, vinyasa, hot, yin and restorative yoga
• Trail running
Learn more about sport-specific and therapeutic yoga instructor, Jeff Grace!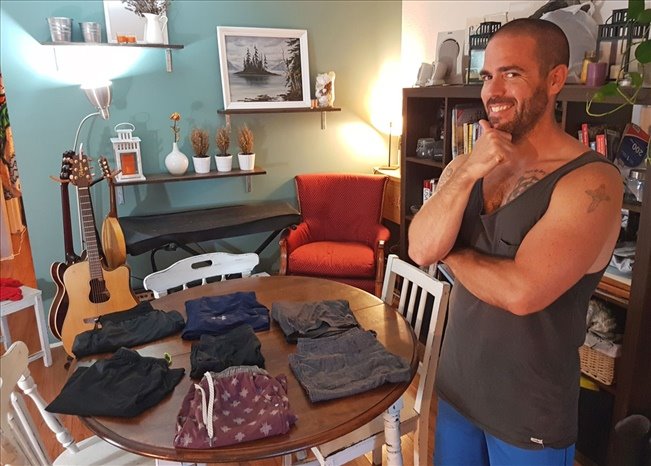 Editors Note: The YO Review is a monthly independent review by outside experts of top yoga products carried on EverydayYoga.com. The outside experts do not work for any of the brands or EverydayYoga.com and have provided their unbiased opinions on the products in return for sample product. It's worth it to point out that every yogi has different needs and unique opinions when it comes to feel, fit, comfort and functionality. A review should only be one point of information in any purchasing decision.