The #YogaHappy Challenge: Day 6

It's a new year, and time for a new challenge. Whether you are just starting your practice, or wanting to deepen it- we want this challenge to jump start that process for you in 2014. With that said, the #YogaHappy challenge is open to anyone and everyone seeking daily bliss. 
This 21-day challenge includes everything from getting sweaty on the mat to finding yoga in unusual places in your daily routines. Each day we will post a new challenge that connects you to a different part of your practice. The #YogaHappy challenge will inspire mindfulness, presence and our connection to our happy place.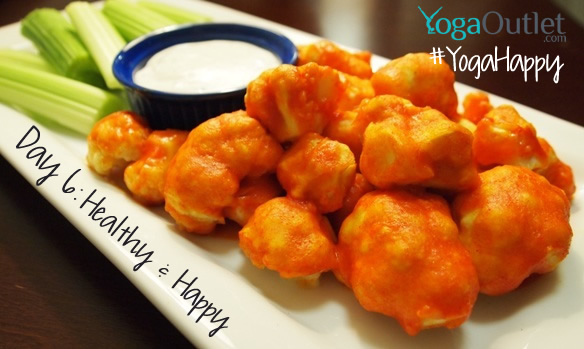 DAY SIX:
Today we challenge you to eat healthy and be #YogaHappy. We know on the weekends it can be extra hard to stick to a clean diet. And of course, we don't want you to miss out on the game-day finger foods when the play-offs are in full-swing. Thankfully, we stumbled across a [vegan] buffalo cauliflower wing recipe from Alicia Silverstone's The Kind Life. Beer is vegan too, right?
VEGAN BUFFALO CAULIFLOWER WINGS
Ingredients
unsweetened almond milk 1 cup
flour of choice- whole wheat or gluten free 1 cup
head cauliflower
chopped 1 na
onion powder 1 tsp
garlic powder 2 tsp
buffalo sauce- like Franks Hot Sauce 0.75 cup
Earth Balance or other vegan butter 1 tbsp
Directions
1. Preheat oven to 450 F
2. Combine flour and milk together. Whisk until no lumps are left. Add garlic and onion powder.
3. Dip each piece of cauliflower into the flour batter.
4. Place onto a baking sheet and cook for 15 minutes.
5. Combine buffalo sauce with melted butter.
6. Dip each piece into the buffalo sauce. Place back onto the baking sheet and cook for 5 more minutes.
7. Drizzle with remaining sauce and serve.
Enjoy.
TO ENTER: share a photo on Instagram (with #YogaHappy) of you participating in the challenge- whether it is a selfie of your practice, your blissed-out yoga hair, or a picture of what is inspiring you on that day.
LOG YOUR PRACTICE: take a picture every day of your challenge and submit it on Instagram. You can add a description or a new insight if you'd like. Remember: your participation is encouraging someone else to join in and get #YogaHappy. What can be better. You can join us in this challenge on any day!