Kiss the Cook: Vegan Waffles
With Valentine's Day approaching, people are going out of their way to be extra sweet. Well, we thought, what's sweeter than a yummy waffle and strawberry combo? Decorate the table real cute, and surprise someone with a vegan breakfast from the heart. Oh, and don't forget to make sure your apron says, "kiss the cook."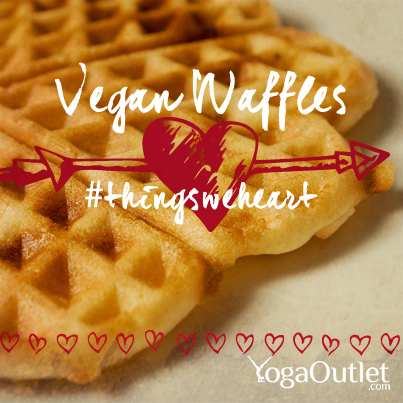 VEGAN WAFFLES
*Serves 8
Ingredients
3 cups flour
2 Tbs baking powder
1-2 Tbs sugar
1/2 tbs. salt
3 cups rice milk
1/3 vegetable oil
1 tsp. vanilla extract
1 tsp. cinnamon (optional)
Directions
1. Preheat waffle maker
2. Mix together all of the ingredients in a bowl
3. Spray waffle iron with coconut oil spray
4. Pour into iron
5. Cook until golden brown
6. Add strawberries and organic agave nectar (to taste)
Enjoy!