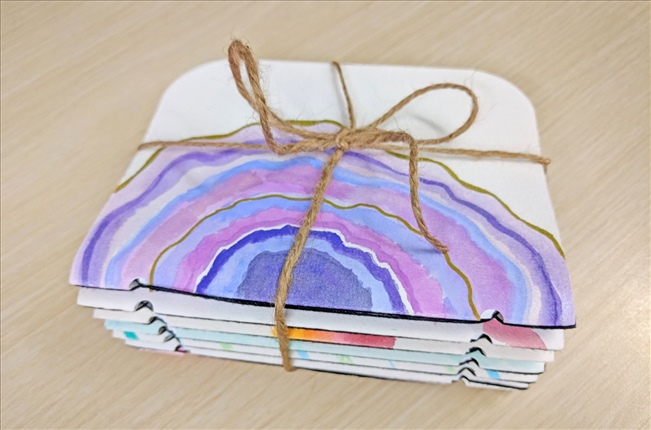 If you're looking to do a little mental spring cleaning, give daily journaling a try! It's a great way to regularly clear your mind and stay grounded. Journals can be used to help keep track of daily tasks, work through complicated thoughts, release emotions, and set intentions.
Having a journal that you absolutely love will motivate you to utilize it every day. You can make your very own with this simple step-by-step process. These hand-made journals are totally unique and will reflect your own personal style. Plus, they're small and lightweight, making them easy to bring along with you on the go!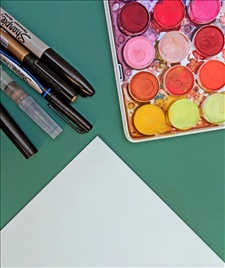 What You'll Need
- " 8 1/2 x 11 Card Stock (one piece)
- " 8 1/2 x 11 Printer paper (10 sheets)
- " Paper Cutter
- " Single Hole Puncher
- " String (yarn)
- " Watercolor/markers to decorate
Instructions
1. Fold the card stock in half and use a paper cutter to cut along the straight fold. This will give you two halves.
2. Fold each printer paper in half and use a paper cutter to cut along straight fold. This will give you 20 half pieces.
3. Fold the card stock in half. Then fold the printer paper in half. 
4. Design the front and back sides of the card stock however you'd like. We used watercolors and wrote quotes on ours.
5. Place the card stock paper on the outside of the stacked papers. The card stock will be the cover for your journal.
6. Making sure the papers are aligned, use a hole punch to punch two holes - one on the top end and one on the bottom end - of the fold. You'll need to stack five pieces at a time.
7. String your yarn through the holes and secure it with a double knot.
8. Optional: Use a corner cutter for all of the edges so to keep the ends of the paper from bending.

Don't feel like making your own journal? Check out our Recycled Yoga Journal from Funky Yoga on EverydayYoga.com!
We'd love to see your creations! Share your version of the DIY Thankful Pocket Journal with us! Tag us @EverydayYoga #EverydayYoga