Healthy Eats: Homemade Cranberry Granola
In the process of deepening your practice, you find that there are endless ways to live your yoga everyday. The art of yoga can be found in so many unique places other than barefoot on your mat-- one of them being in the kitchen. Enriching your practice starts with your mind, connects with your soul and ends with your body. With that said, we love discovering yummy recipes to fuel a healthy and happy lifestyle. 
With spring approaching, we are looking for new ways to brighten our days. What better way to add sunshine to the rain clouds than with a great breakfast? We love this homemade cranberry granola recipe from www.nutritionella.com- the perfect transition from winter to spring.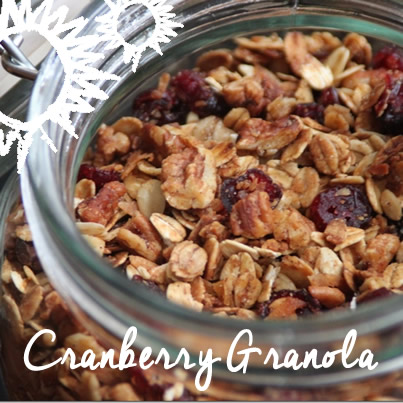 Ingredients
3 cups old fashioned oats
1 cup pecans, chopped
1/2 cup coconut flakes, sweetened
1 cup dried cranberries
1/3 cup honey
2 tablespoons maple syrup
2 tablespoons canola oil
1 teaspoon cinnamon
1 teaspoon ground ginger
1/4 teaspoon salt
*Visit www.nutritionella.com for the full recipe.
This recipe was reprinted with permission from the Nutritionella.com blog.