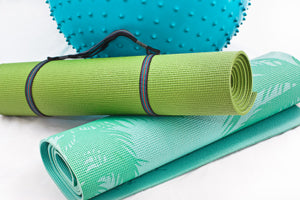 For hundreds or even thousands of years, there was no "yoga equipment." Practicing yoga required only your body, mind, and spirit. And while that's still all you need, most modern yoga practitioners feel more comfortable with a few basic items that are easy to obtain.
Yoga studios and some gyms have straps, blocks, and other props for you to use. Once you've got the basics of yoga down, you may want some of those items so you can practice at home, too. But for now, here are a few essentials to help you sift through the huge variety of stretchy pants, mats, and other yoga gear that is now available — so you can focus on your yoga experience, instead.
Your Own Mat
Your yoga studio or gym might have mats you can use, but it's a good idea to bring your own. Although studios will wash and dry their mats, it can still be hygienically uncomfortable to spread your toes on one that's been shared dozens of times.
Additionally, having your own mat means you can take it anywhere and use it anytime — a great incentive to keep up your practice at home or even on vacation!
With so many mat options on the market, it can be hard to choose. Here are a few tips to pick the mat that's right for you:
Eco-Conscious: There are plenty of mats made from plant-based and renewable materials, like tree rubber and jute; many are also PVC- and latex-free.
Length: Make sure the mat is long enough. You want to make sure your hands and feet are both on the mat in poses like Downward Dog. Extra-long yoga mats tend to run from 72 to 84 inches.
Thickness: Vigorous practices like Ashtanga, Vinyasa, and Power Yoga may warrant a quarter-inch-thick mat so you don't get bruised. You can go with a thinner mat for more gentle classes or those done in a carpeted home. Make sure it's a yoga mat, though — thick, squishy fitness mats make it tougher to balance.
Texture: Make sure you're comfortable with the way the mat feels. Yoga mats are sometimes referred to as "sticky mats," due to their textured grip, which prevents your hands and feet from slipping during poses. Some mats — particularly eco mats — have a nubby, "natural" texture; others are more like the rubber sole of a shoe.
Shop around: If you're having trouble figuring out which mat features you want, try asking other yoga students or your yoga teacher what they prefer. Reading reviews and comparing products online is always helpful, too, and can help you find a good deal.
A Mat Towel
Depending on your preferred style of yoga, you may end up sweating quite a bit during your practice. This can make your mat slippery and dangerous, plus you probably don't want to worry about sweat stinging your eyes when you're trying to focus and balance. That's where a good mat towel comes into play.
A standard hand or beach towel usually works just fine to soak up the sweat, but if you're dedicated to Ashtanga, Bikram, or Power Yoga, you may want to check out yoga-specific towels, which fit the entire length of your mat and are made from extra-absorbent material that dries quickly. Some of these yoga towels even have rubber nubs on the bottom to further prevent slippage.
Comfortable, Breathable Clothing
Skinny jeans might be your current favorite, but they may cause some trouble in yoga. You'll want to wear comfortable, breathable clothes that allow you to focus on the practice and not your tugging waistband or chafing sleeve. Some practices, like Iyengar, may ask that you wear clothes that don't hide your form (such as leggings and leotards), so the teacher can easily view your alignment.
Here are a few more tips for finding the best yoga clothes:
Get the Right Fit
Avoid wearing items that are too big or revealing. Ladies, watch out for tops that might drape extra low (or extra-wide at the armpit). Guys, be aware of too-loose shorts and the potential for overexposure.
At the same time, don't wear clothes that are too tight or restrictive. Remember, you want to be completely free to move through the positions.
Wear Fitness or Yoga-Specific Clothes
Fitness wear is usually best, as it's designed specifically for moving your whole body. Look for moisture wicking fabric and styles that are form-fitting yet comfortable.
Yoga pants, or stretchy (usually black) athletic pants, can be found at any sporting goods store. You don't need to spend $100 on a pair, but make sure they don't pinch or bulge uncomfortably.
Shop and Ask Around
If you're not sure what to wear, look at online yoga stores or pick up a magazine with yoga content. Ask a yoga teacher where he or she shops; observe other students before and after class. If someone is wearing an item you like, don't be shy to ask where they got it.
Also, make sure to test out your purchases by practicing poses in the dressing room (or in your bedroom). It may feel goofy at the time, but it will be worth it once you get to your mat!
Yoga is possible for anybody who really wants it. Yoga is universal.
K. Pattabhi Jois
Extra Layers
Bring a long-sleeved shirt or hoodie to class and keep it nearby in case you get chilled during Corpse Pose (Savasana), the final relaxation position. If your toes tend to get cold, it's nice to slip on a pair of socks for Savasana, too.
Having layering items on hand will also protect your warm muscles from the outdoor air, which, especially after hot yoga, can feel cold compared to the swelteringly hot and muggy studio. That dramatic shift in temperature can be uncomfortable, or even cause injury, if you are not prepared.
Keep your eyes peeled for new products — special fabrics have been developed in recent years that can even encourage muscular recovery.
A Good Water Bottle
It's important to stay hydrated, no matter what style of yoga you practice. Though most studios have drinking fountains or vending coolers, bringing your own water bottle will save money and prevent waste. Plus, they're readily available at sporting goods stores, usually in the color or design of your choice (for those of you who like to coordinate your accessories!).
For hot yoga classes, you may want an insulated bottle, to help keep your water cold throughout class.
Don't Stress!
Buying and researching yoga gear can be overwhelming, but it doesn't need to be. Take a deep breath and remember that a desire to learn is the most important thing you need to begin a yoga practice. If you approach yoga with an open mind, the items you've brought to class will matter much less in the long run than the connection you may discover between your body, mind, and spirit.
That's our list of essential items for the beginning yoga practitioner. What items are on your to-buy list before that next class?